Tests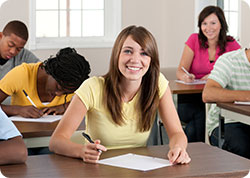 What tests do I need to take? Testing requirements are dependent on certification type. Read more about which tests are required for teacher certification in Pennsylvania.
Passing requirements. Each PECT assessment includes multiple modules. To pass an assessment, examinees must pass each module. For the PAPA, it is also possible to pass by using the Composite Score Option. Based on the recommendations of panels of Pennsylvania educators, the Pennsylvania Department of Education has established, for each module, a performance criterion (i.e., cutscore) that must be achieved. For the PreK–4 test, the approved performance criterion for Module 1 is represented by a scaled score of 197. For both Modules 2 and 3, the performance criterion is represented by a scaled score of 193. For all other tests in the PECT program, the performance criterion for each module is represented by a scaled score of 220.
Information about each test. Get specific information about a test, including when and where you can take the test, and access preparation materials by selecting the test from the following table.
---