Helping Candidates Prepare
The registration and score reporting services on this website will be temporarily unavailable on Tuesday, October 11, 2022, between 7:30 a.m. and 2:30 p.m. eastern time, for system maintenance. We apologize for any inconvenience. Online-proctored exams scheduled during this time will not be affected; however, there may be a brief period where appointments may not be started. If you cannot begin your appointment, please wait a short period and then try again.
Helping Candidates Prepare
The following resources provide information and worksheets to help faculty assess candidates' readiness to test and to assist in guiding their test preparation.
Resources
Test Preparation Materials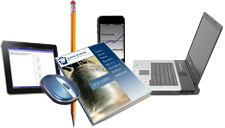 Customized test preparation materials are available, free of charge, for each test in the PECT program. These materials include
sample test questions,
a list of study resources,
a full-length practice test.
Customized online, interactive, fee-based practice tests are also available for each test in the PECT program. Candidates may purchase practice tests for themselves directly on this website. Additionally, institutions may purchase practice test vouchers for their candidates by submitting a Practice Test Voucher Order Form

.
Select a test from the list below to view available study materials.
Videos and Tutorials
These videos and tutorials can help candidates familiarize themselves with the test center and the computer-based testing format before the day of the test.